James P. Whittemore, Jr.
The Whittemore Group, Inc.
1750 SW Skyline Blvd, Suite 206
Portland, OR 97221

Tel: 503-292-4000
Fax: 503-296-0055
jim@whittgroup.com
EXPERTISE
Create and develop interactive sales and marketing programs for digital and print platforms in the golf industry. Develop marketing and advertising programs for companies seeking to reach the golf demographic to increase brand loyalty and consumer awareness. Combine the creative elements of a media/sponsorship/advertising package with the marketing goals of an advertiser.
PROFESSIONAL HISTORY
The Whittemore Group, Inc. Founded: January 1999
President/Owner
A company providing management, sales, marketing, and media related services to the golf industry. Marketing development i.e., benefits, pricing, cross promotion sales and implementation; creating broadcast sponsorship opportunities; packaging sports properties and products for broadcast; media development, planning and implementation for print and broadcast. Emphasis on golf industry related products and services.
Network sponsorship sales on ABC, ESPN, CBS and The Golf Channel including:
Shell's Wonderful of Golf, Michael Douglas & Friends, Hyundai Team Matches and Wendy's 3 Tour Challenge, People vs. The Pros, The Ten Greatest In Golf, Franklin Templeton Shark Shootout, Chevron World Challenge, Hero World Challenge
BROADCAST
Executive Producer of the two-hour ESPN documentary; "The Game That Defined a Century," a retrospective of the last century of golf in America. Aired on ESPN May and June 2000. Developed concept, budget and production; assisted in writing, producing and directing and research; negotiated broadcast package; developed and sold all broadcast inventory; managed all Internet, national and international VHS distribution and after-market sales. Submitted to National Academy of Television Arts and Sciences for Emmy Award consideration in the "Outstanding Sports Documentary" category, 2000.
PRODUCT SALES
Fuzzy Zoeller Productions, Inc.
Vice President, Worldwide Sales 2002-2006
Responsible for all sales, marketing, advertising and promotion of two new products invented by PGA Tour professional, Fuzzy Zoeller: THE PUTTING PEG™ and THE PUTTING POD™. The products were launched in the retail market in August, 2002. Created national sales team of 22 people responsible for green grass and off-grass sales. Established national distribution network with seven distributors responsible for "big box" retail sales. Established international distribution network in Japan, South Korea and the UK/Europe. Developed and produced national Direct Response television advertising campaign.
DIGITAL AND PRINT SALES
Golf Media Network
COO, Director of Sales
March 2014 – Present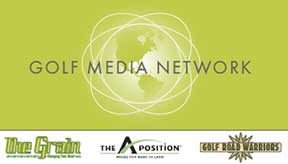 Golf Media Network is a multi-platform digital portfolio of websites, publications and custom publishing products serving more than 2 million core golfers.
Global Golf Post
National Sales Director
August 2009 – March 2014

Global Golf Post is the first weekly, interactive digital golf magazine in the world. Manage the marketing, sale, development, coordination, of all endemic and non-endemic digital advertising sales. Provide weekly metrics to advertisers showing position, dwell time and click thrus.
Golf Sales Director November 2010 – November 2012
Fortune Custom Publishing Time, Inc.

In partnership with the PGA of America, managed endemic and non-endemic sales for Custom Content sections built around golf's four major championships.
North America Media Group June 2007 – June 2009
PGA TOUR Partners Club Magazine
Western Sales Manager

PGA TOUR Partners Club magazine was a bi-monthly publication of North America Media Group. Responsible for all endemic and non-endemic advertising sales in the US western region. NAMG ceased publication in June, 2009.
EVENT MANAGEMENT
Peter Jacobsen Productions, Inc. December 1989 – December 1999
Director, Sales & Marketing
Vice President, Sales & Marketing
Vice President, Business Development
Assisted in the formation of Peter Jacobsen Productions, Inc. (PJP) in 1989. Member of four person management committee. PJP was formed as the tournament management group for The Fred Meyer Challenge. As director and then vice president, sales and marketing, managed sales force; developed and sold all sponsorships; doubled staff in five years and grew corporate sales from $2.8 million to $7.2 million over ten year period. As vice president, business development, spearheaded the acquisition of additional properties; sold sponsorships for more than 70 events over ten year period including The Fred Meyer Challenge, NHL exhibition games, CFL exhibition football, NIKE World Masters Games, Franklin Templeton Shark Shootout.
While at PJP, served as:
Tournament Director: The Skins Game - Bighorn Golf Club 1992-1994
Tournament Director: Franklin Templeton Shark Shootout 1997-1998
Sherwood Country Club
Tournament Director: Chairman's Cup 1998-2004 (Portland Chamber of Commerce)
Tournament Golf Foundation, Inc. 1980-1989
TGFI (formerly Tournament Golf, Inc.) is a group of volunteer professional businessmen in Portland, Oregon responsible for the sales, marketing and management of the oldest stop on the LPGA Tour. Now known as the Safeway Classic.
Sponsorship Chairman 1985
Tournament Director 1986, 1987
Professional and Personal References:
Mike Galeski, Tournament Director, Encompass Championship
Phone: 847-664-1174
e-mail: Mike.galeski@ul.com
Peter Jacobsen, Chairman, Peter Jacobsen Productions, Inc.
Phone: 503-526-9331
James B. Jeddeloh, CPA
Phone: 503-781-1272
e-mail: jamesjeddeloh@comcast.net
Steve Sacks, Sacks Parente Golf Company
Phone: 619-977-1112
e-mail: Stevesacks1@mac.com
Terry Hanson, President, Hanson Enterprises
Phone: 704-366-1240
e-mail: Hansonenterprise@aol.com
Peter Kessler
Phone (H) 407-898-2814
e-mail: PeterKessler@me.com
Personal
Holy Cross College 1974 BS Political Science
Married: Wife, Laurie, Real Estate Principal Broker, Windermere/Cronin & Caplan
Children: James "Blake", 35
Mary Elizabeth "Libby", 33

Affiliations:
Former Board Member:
Leukemia& Lymphoma Society of Oregon
St. Mary's Academy, Portland, OR
Easter Seals Society of Oregon
Albertina Kerr Center for Children
Columbia Edgewater Country Club

Memberships:
Waverley Country Club, Portland, OR
Astoria Golf & Country Club, Astoria, OR
Multnomah Athletic Club, Portland, OR